Tuesday, February 14th, 2012
---
11:22 am
- listening to "MC Frontalot - Pr0n Song (Subtitled Lyrics) (HD)" on Blip
@carynloveless: "My favorite romantic Valentine's song for all of you. (@mc_frontalot)"
Monday, February 13th, 2012
---
10:48 pm
- listening to "MC Frontalot - Pr0n Song (Subtitled Lyrics) (HD)" on Blip
My favorite romantic Valentine's song for all of you. (@mc_frontalot)
Sunday, March 13th, 2011
---
3:40 pm
- listening to "cage the elephant - aint no rest for the wicked" on Blip
I can actually *hear* this version..
3:28 pm
- listening to "Blind Willie McTell - Southern Can Is Mine" on Blip
Nice weather, porch playin' music.
Saturday, February 19th, 2011
---
10:14 am
- listening to "Incubus - You Will Be A Hot Dancer" on Blip
Most people have no idea what I am talking about when I mention this one.
9:56 am
- listening to "The Fratellis - Creepin Up The Backstairs" on Blip
Monday, February 14th, 2011
---
1:42 pm
- listening to "Persephone's Bees - Nice Day" on Blip
1:26 pm
- listening to "Abe Reid - Sweet Georgia Brown" on Blip
I've always enjoyed Abe Reid...
Saturday, February 12th, 2011
---
8:35 pm
- listening to "Munchausen By Proxy (Zooey Deschanel & Von Iva) - Uh-Huh" on Blip
6:04 pm
- listening to "Cage The Elephant - Ain't No Rest For The Wicked (official video)" on Blip
Some have cravings for coffee. I get cravings for some songs...
Tuesday, December 29th, 2009
---
3:04 pm
- Wow
It's been a long time since I have posted anything on here. LJ is looking good. My account still looks like a 19 y/o runs it.

Heh.
Thursday, September 11th, 2008
---
11:35 pm
- Heh
Apparently it has been over 78 weeks since I have posted an update.



Um...


The site is looking good.
Thursday, October 12th, 2006
---
8:26 pm
- Golden Ticket?
So, I just recently got back from being in Ireland for 10 days. Today was my first day back at work. Apparently the trip did me more good than I thought. I kept slipping into an Irish accent that pretty much lasted all day. One guy liked the way I spelled my name, so why he was sitting there, wrote a story about me. He said his name is Tog, or Tong, or Torg, something like that. He said he will email me the story. Then, at the end of the night, this other guy came in. He asked me "Where in Ireland are you from? County Kerry?" which I found funny because when I was over there, native Irishmen were asking me the same damn question. I told him I was from Memphis and that I just came back, blah, blah, blah, how I have a really bad habit of slipping into accents I am around and am still used to the Irish one. Apparently he was impressed. He said his Mum and Dad are originally from Ireland and he couldn't tell that I was American. He said he forgot where he was for a moment when I greeted him. So, he says he is in Film and TV production and was wondering if I would be interested in auditioning sometime if someone offered to fly me down. I told him I would give it some thought. We exchanged emails and phone numbers.

He is probably full of shit. I told him I have no aspirations of acting. He thought I was 18 and was shocked when I told him I'm 26. "You could play a range of ages!" Could this be my golden ticket out of some of my problems? Probably not, but I think I might try and let this play through for a bit, just to see what happens.
Monday, April 17th, 2006
---
6:51 pm
- It has been too long
Things have been good. I went to SXSW in Austin this year. I started to write an update for myspace about it, but then the alcohol wore off and I started forgetting what happened.

I"m looking into buying a house right now. Who knows if I will keep kicking around here long enough, but I am really tired of dodging my landlords anal retentive son. I am not supposed to have any pets where I live, but I could never get rid of rain.

I am stil single, but it is starting to take its toll. 10 years is too long. I bitch because my friends are constantly falling in love with the next person through the door, but I secretly wish I could fall so easily and feel that way for someone. I am almost jealous of their nieve emotions. Of course,they all come to me so I can comfort them in the single light. 'It's ok to be alone sometimes' 'You'll find someone better' ' maybe it just wasn't the right time' These are all phrases they hear from me often, even though they don't realize it. Of course, there is always someone that speaks up "You've been single for 10 years? Wow, luckily" No, dude, not really. I don't know if I would recognize love if it bit me on the cheek at this point. Is it too much to ask for someone I can't get sick of? Someone I can't get out of my mind? Someone with a fucking soul?

But I digress.

At SXSW I wanted to meet up with two guys and try and make a deep connection (if you know what I mean) with one of both of them. No, they were not random guys. One is with some performance art-like group out of LA. He spins fire (which I am teaching myself). He seemed all nice before the trip, seemed all nice the first night I met him, but disappeared. The second night I saw him, he gave me a generic excuse: 'I"m rea;;y tired. I"m not used to doing two shows in a row.' Well, his group mates seemed pretty hyper, what the fuck was wrong with him? I messaged him on Yahoo when I got back to Memphis and told him that I had to fought myself to keep from throwing him against my car and ravaging him. He didn't respond. I told him to take the compliment and let it go. "Um, thanks" Yeah, I haven't spoken to him since.

The other was a friend from NOLA. He stayed with me after Katrina and we had a blast. This guy slept beside me in bed for 3 nights. He never tried anything with me, not even cuddling. I didn't think much about it until after he left. I spoke to him a few days later and told him that I really got used to having him around. His response? "Yeah, I miss you too" So sweet. We have kept in touch since then through phone calls and myspace. He is the only person I know with whom I can have a phone conversation with, and we can both explain detailed highlights of events since the last time we spoke...in less than an hour. No pauses or anything. He is really great. I was going to meet up with him in Austin, but his band decided to leave the day I got in town. He was going to drive back but decided it was kinda crazy for him to do so. So that sucked. I was going to visit him this weekend (it is very rare that I have two days off in a row). Unfortunately he didn't get back to me soon enough. If I left at the time he called, I would have gotten to NOLA around midnight, having to come back the next afternoon. It just wasn't worth it. I want to book his band in Memphis to play my birthday. He said if that doesn't work out, I could come down there and they would do something for me. :) I told him once that if I lived down there, I would try and give all those girls that he dates a run for their money. I would....try. He is too great of a guy to go through some of the dating catastrophes he has told me about.

Work is good. I am still at the airport. I kind of wish they would put me in a management position because all the managers take suggestions I give them and run with it. They say we make more $$ than them with tips and stuff. Bullshit. I estimated that I make 25k/ yr working there. Maybe a little more sometimes. It doesn't seem like much, but its supports me, occasional traveling expenses, bar covers and tabs, bills. Even when I have a bad money day, I look back at my last job and think 'well, at least I am making an honest living and not being accused of stealing every day'. And I meet a lot of nice people, but I have also met alot of assholes. Eh, I let it slide off my back. I force my customers to smile, at least once, before they leave. I have even gone so far as to give them a piece of chocolate and tell them the 'cheer up, you're bringin' me down'. Yes, I bribe. They smile. It works.

I have kind of removed myself from the 'scene' around town. I take my nights and spend them my my friends that don't judge me and everone else around me. That got old real quick. I miss my old friends and am doing what I can to keep them closer to me.

Carrie's baby is due in July@! I'm gonna be an Aunty. I am very, very excited about this. I think she will be a great mother. I am hoping a am a good Aunty. It's not even my kid, but I feel like I need to change some things in my life. I want to feel carefree, but I haven't been able to feel that way in a long time. People used to classify me as a free spirit. I wish I could grasp that part of my life again. At the same time, I feel like I need to grow up and prepare better for the road ahead. I have no idea what I am doing, but I want my friends with me when I do it. I am starting to feel really settled, and that honestly scares me more than anything. I don't like feeling tied down. Maybe that is why weary about relationships. I hate feeling settled.

Well, that's enough for now. I will try and post more later. My love to you all.

~C

Oh, BTW, the promotional company I have been working with for how ever many years, chose me to be in their "spotlight" this week, month, whatever. It took me several days to actually fill out the interview they send me. I didn't know what to say. Be happy for me. They will be sending my face out to several thousand people around the country/world.

Here are some recent pictures, too.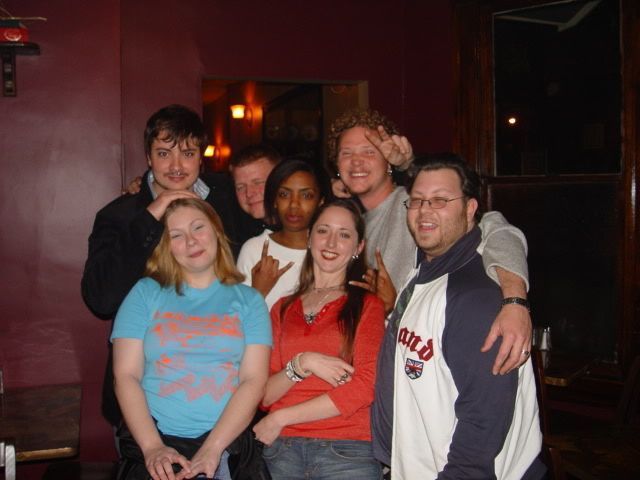 Tuesday, December 13th, 2005
---
5:30 pm
- Funeral
There is a visitation tomorrow night at, I think its called, High Point Funeral Home on Highland from 5 to 7pm. The funeral will be at Calgerie (sp?) at Forrest Hill at 11am Thursday.


I'm still not taking it any better. I called into work today and just spent the whole day in bed. I hadn't even fed my cat yet.
Monday, December 12th, 2005
---
11:23 pm
- IMPORTANT...
for those of you who don't know, my long time friend and neighbor, Andy George, was found in his home this morning dead. He passed sometime this weekend from what has been determined as a heart attack. I am posting this on here because there are some of you who knew him that I have lost touch with.

This is not a joke.

I will post more news when I get it.
Friday, November 25th, 2005
---
7:49 pm
- been a while
thats how all of my most recent entries seem to be titled. I dont get very many chances to update here these days. I have been wanting to post about so much. I promise I wil try harder. I tend to end up at bars with my laptop in hand, vigoriously (sp?) typing away at some rant or another wit not wireless access avilable, so they get saved in word documents.

As a short update,

*I found out a few weeks ago that I am going to be an Aunt for the first time. Yes, my sister, Carrie, and her husband are in the beginning stages of a new addition.

*Local bands are asking me more and more to take photographs at their shows. I'll post some on here soon so you can see why they are in such high demand.

*I still seem to lack that *special* someone in my life. I dont seem to get asked out by the guys I really want, but the guys that do ask me out put too much pressure on me so I tend to run the other way. I am, however, "assisting" a close friend of mine in getting over a breakup with his fiance'.

*I have been mending a few burnt bridges and burying old hatchets.

*I am trying to get into the beginning stages of publishing a zine on local music.

*I am currently working as a waitress at an airport.

*It is too cold in my livingroom to type properly.

THat should cover some things. I hope everyone has a good holiday if I don't update before then.


~C


P.S. Tito and Carmelo, if you guys still read this, I need your addresses to send you these damn gifts I have had collecting dust for three years.
Saturday, September 10th, 2005
---
4:46 pm
- Not much more to be said....
Anne Rice wrote this. It's good for anyone to read, whether you've never been to New Orleans, have been there on vacation, or if, like for me, this city was a major thread in your life:

WHAT do people really know about New Orleans?

Do they take away with them an awareness that it has always been not only a great white metropolis but also a great black city, a city where African-Americans have come together again and again to form the strongest African-American culture in the land?

The first literary magazine ever published in Louisiana was the work of black men, French-speaking poets and writers who brought together their work in three issues of a little book called L'Album Littéraire. That was in the 1840's, and by that time the city had a prosperous class of free black artisans, sculptors, businessmen, property owners, skilled laborers in all fields. Thousands of slaves lived on their own in the city, too, making a living at various jobs, and sending home a few dollars to their owners in the country at the end of the month.

This is not to diminish the horror of the slave market in the middle of the famous St. Louis Hotel, or the injustice of the slave labor on plantations from one end of the state to the other. It is merely to say that it was never all "have or have not" in this strange and beautiful city.

Later in the 19th century, as the Irish immigrants poured in by the thousands, filling the holds of ships that had emptied their cargoes of cotton in Liverpool, and as the German and Italian immigrants soon followed, a vital and complex culture emerged. Huge churches went up to serve the great faith of the city's European-born Catholics; convents and schools and orphanages were built for the newly arrived and the struggling; the city expanded in all directions with new neighborhoods of large, graceful houses, or areas of more humble cottages, even the smallest of which, with their floor-length shutters and deep-pitched roofs, possessed an undeniable Caribbean charm.

Through this all, black culture never declined in Louisiana. In fact, New Orleans became home to blacks in a way, perhaps, that few other American cities have ever been. Dillard University and Xavier University became two of the most outstanding black colleges in America; and once the battles of desegregation had been won, black New Orleanians entered all levels of life, building a visible middle class that is absent in far too many Western and Northern American cities to this day.

The influence of blacks on the music of the city and the nation is too immense and too well known to be described. It was black musicians coming down to New Orleans for work who nicknamed the city "the Big Easy" because it was a place where they could always find a job. But it's not fair to the nature of New Orleans to think of jazz and the blues as the poor man's music, or the music of the oppressed.

Something else was going on in New Orleans. The living was good there. The clock ticked more slowly; people laughed more easily; people kissed; people loved; there was joy.

Which is why so many New Orleanians, black and white, never went north. They didn't want to leave a place where they felt at home in neighborhoods that dated back centuries; they didn't want to leave families whose rounds of weddings, births and funerals had become the fabric of their lives. They didn't want to leave a city where tolerance had always been able to outweigh prejudice, where patience had always been able to outweigh rage. They didn't want to leave a place that was theirs.

And so New Orleans prospered, slowly, unevenly, but surely - home to Protestants and Catholics, including the Irish parading through the old neighborhood on St. Patrick's Day as they hand out cabbages and potatoes and onions to the eager crowds; including the Italians, with their lavish St. Joseph's altars spread out with cakes and cookies in homes and restaurants and churches every March; including the uptown traditionalists who seek to preserve the peace and beauty of the Garden District; including the Germans with their clubs and traditions; including the black population playing an ever increasing role in the city's civic affairs.

Now nature has done what the Civil War couldn't do. Nature has done what the labor riots of the 1920's couldn't do. Nature had done what "modern life" with its relentless pursuit of efficiency couldn't do. It has done what racism couldn't do, and what segregation couldn't do either. Nature has laid the city waste - with a scope that brings to mind the end of Pompeii.

•
I share this history for a reason - and to answer questions that have arisen these last few days. Almost as soon as the cameras began panning over the rooftops, and the helicopters began chopping free those trapped in their attics, a chorus of voices rose. "Why didn't they leave?" people asked both on and off camera. "Why did they stay there when they knew a storm was coming?" One reporter even asked me, "Why do people live in such a place?"

Then as conditions became unbearable, the looters took to the streets. Windows were smashed, jewelry snatched, stores broken open, water and food and televisions carried out by fierce and uninhibited crowds.

Now the voices grew even louder. How could these thieves loot and pillage in a time of such crisis? How could people shoot one another? Because the faces of those drowning and the faces of those looting were largely black faces, race came into the picture. What kind of people are these, the people of New Orleans, who stay in a city about to be flooded, and then turn on one another?

Well, here's an answer. Thousands didn't leave New Orleans because they couldn't leave. They didn't have the money. They didn't have the vehicles. They didn't have any place to go. They are the poor, black and white, who dwell in any city in great numbers; and they did what they felt they could do - they huddled together in the strongest houses they could find. There was no way to up and leave and check into the nearest Ramada Inn.

What's more, thousands more who could have left stayed behind to help others. They went out in the helicopters and pulled the survivors off rooftops; they went through the flooded streets in their boats trying to gather those they could find. Meanwhile, city officials tried desperately to alleviate the worsening conditions in the Superdome, while makeshift shelters and hotels and hospitals struggled.

And where was everyone else during all this? Oh, help is coming, New Orleans was told. We are a rich country. Congress is acting. Someone will come to stop the looting and care for the refugees.

And it's true: eventually, help did come. But how many times did Gov. Kathleen Blanco have to say that the situation was desperate? How many times did Mayor Ray Nagin have to call for aid? Why did America ask a city cherished by millions and excoriated by some, but ignored by no one, to fight for its own life for so long? That's my question.

I know that New Orleans will win its fight in the end. I was born in the city and lived there for many years. It shaped who and what I am. Never have I experienced a place where people knew more about love, about family, about loyalty and about getting along than the people of New Orleans. It is perhaps their very gentleness that gives them their endurance.

They will rebuild as they have after storms of the past; and they will stay in New Orleans because it is where they have always lived, where their mothers and their fathers lived, where their churches were built by their ancestors, where their family graves carry names that go back 200 years. They will stay in New Orleans where they can enjoy a sweetness of family life that other communities lost long ago.

But to my country I want to say this: During this crisis you failed us. You looked down on us; you dismissed our victims; you dismissed us. You want our Jazz Fest, you want our Mardi Gras, you want our cooking and our music. Then when you saw us in real trouble, when you saw a tiny minority preying on the weak among us, you called us "Sin City," and turned your backs.

Well, we are a lot more than all that. And though we may seem the most exotic, the most atmospheric and, at times, the most downtrodden part of this land, we are still part of it. We are Americans. We are you.
Saturday, July 16th, 2005
---
2:17 am
- Hahahahhaa


A strong-willed herald of causes against injustice, you passionately strive to right the wrongs around you.

Somebody has to save our skins!






A brave and loyal associate full of optimism, you remain true to your friends and their efforts, to whatever end.

But in the end, it's only a passing thing, this shadow. Even darkness must pass. A new day will come. And when the sun shines it will shine out the clearer.
Saturday, June 18th, 2005
---
6:00 am
- Aint' this some shit
OK..I'm drunk, but with good reason.

Tonight, we had less that 20 people pay to get into the club. They cut me around 12:30. 'Cool' I think, I have enough time to drive over by Merphy'[s and catch the show I wanted to make. Well, I get there, literally talk to about 4 to 5 people in the parking lot, and get called by one of my co-workers. My manager on duty snatches the phone from him and tells me to get there immediantly. I'm thinking that maybe they got a sudden rush of people whem we were startin gto close and that they needed me to get back into the window (I was taking cover charge tonight). Well, I began turning off union on 4th and the manager on duty (Derek) calls me asking "Youi better have my fucking money," In which I asked what the fuck was he talking about. I was hung up on. I pulled into the employee parking lot, get out of my car, and Derek comes up to me, places his finger forcefully on my forehead, telling me I better have him money or I better call my momma becase "Im gonna put you six feet under!" I tried to take his finger out of my face (I've seen him hit people before and I honestly though he was going to hit me) and he pressed it back into my forehead, then taking my arm, almost slamming me into a truck in our parking lot (Amy saw that). HE tried to accuse me of STEALING $300-400 out of the safe!!!!!!!!!!!!!!!!!!!!!

I told him I had not been home ( I have witnesses) and told him to search my car...and to search me if he needed to. I opened my car, front seats, back seats, AND the trunk. He, after trashing my car (more so than it usually is) and emptying my purse, he STILL insisted that I stole the money! I stated to have the cops called, check my car, and fingerprint the fucking safe (which, might I add, I have NEVER touched except to maybe rest my elbow on) in the year that I have been working there. Of course, the cops were not called ( I wish they had been!) and Derek told me to never show my ass in that club again.

A few things that make me a target:1) I was the only one working in that level of the office; 2} they know I start a new job next week (which I WAS going to hold on to Plush a few days a week in case the new job didnt work out).

After this humilitating encounter, I called the other manager, Lisa, and told her what was going on. Surprisingly, she had no idea. She talked to Derek and called me back, asking if I knew how much money was missing. I stated that Derek told me $300-400 was gone. She said that $300, pluse two 50's and some 20's, but Derek didn't know how many. I told her ( as I had stated previoudly) that if they wanted to bring the police into the situtation, I waw all for it. I KNOW I DID NOT TAKE THE FUCKING MONEY!. She told me to leave the parking lot because at that point me and one other person, Amy ( who saw Derek throw me around lick a prostitute) were blocking the drive (ever though no one was trying to get out at the time). Lisa said that she and Chris (the owner) were going to go up to the club and review the tapes. I told her to let me know who they caught on tape taking the money so I could smack the shit out of them later.

I called her after 3am, she told me to call her after 2pm and that she didn't go up there, but that she would let me know what she finds out.

First off, I have been there for a year now (if you include bar training courses, which they don/t). As far as Pluch is concerned, next month will by my year anniveresery (sp?). I have been there much longer than Derek. At ;east gove me enough credit that, IF> I were to steal, I wouldn't take money from the goddamn safe that has more than likely been counted. As far as I am concerned, the safe stays locked! But refer to the "target" statement above.